Wednesday, 24 December 2014
Wednesday, 10 December 2014
Research Foundations for Understanding Books and Reading in the Digital Age: E-merging Reading, Writing, and Research Practices
An INKE-hosted Birds-of-a-Feather Gathering
8 December 2014, State Library of New South Wales
By Suzana Sukovic
A Birds-of-a-Father Gathering hosted by the Canadian group
INKE
(Implementing New Knowledge Environments) turned out to be a beginning of the festive season for me. Really. This seminar was a summer rain for my brain parched by the heat of end-term rush, administrative duties and noise of building works. It had all the elements of great gatherings – good organisation, nice people with fresh ideas, thoughtful insights and shared interests, lots of time for discussion and pleasant surroundings.
The organisation of the gathering required a great deal of preparation to create time for discussions during the day. After a selection of abstracts, authors were asked to write long papers, which were collated into a nearly 300 page long document and shared with participants. During the seminar, each paper was allocated 10 minutes – strictly 4 minutes for a presentation and the remainder for questions and discussions. Keynote addresses had a more generous time allocation, still with ample time for discussions. In this blog post, I will share some of the ideas presented during the day, keenly aware that a brief overview can't do justice to the richness of arguments and conversations.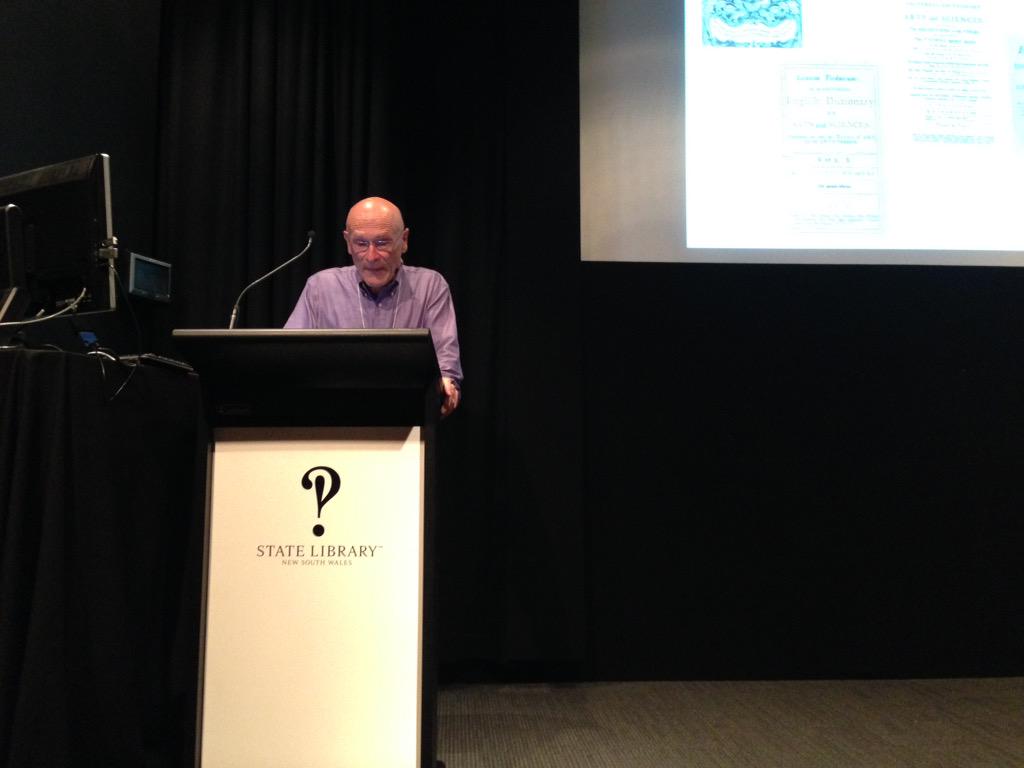 The first keynote speaker was Christian Vandendorpe (University of Ottawa) with the paper Wikipedia and the Ecosystem of Knowledge in which he shared his insights into the inner workings and reception of the encyclopedia. Vandendorpe presented a model of Wikipedia as a glasshouse in which everything is visible. He explained rigorous editorial process and invited scholars to contribute by writing articles and to consider its use in research. Teachers at all levels
are encouraged to use Wikipedia's educational spaces in class. An interesting question from the audience was whether the creation of a 'world brain' could lead to the homogenisation of knowledge and a loss of diversity.
Reading Technologies, Digital Production, & the Social was the title of the first session. John Maxwell (Simon Fraser U) argued that the WWW is the publishing paradigm of our time. He promoted the possibility of hacking scholarly work by adding value to it (for example, adding index to a publicly available work). Tully Barnett (Flinders U) discussed young people's social reading enabled by the Kindle social highlighting feature. Transliterate reading was my paper in which I considered how scholars, community members and teenagers search, read and create in a transliterate manner. I will present my 4 minute argument on the LARK blog shortly.
Session 2: Collaboration: Tools, Platforms, & Examples was marked by discussions about engagement with users and readers. Jon Bath (U Saskatchewan) presented a multi-authored paper describing an experiment to employ a plug-in for the Zotero bibliographic management system in collaborative projects. The users' reluctance to try the software during the experiment prompted us all to reflect on the values of sharing negative research experiences. On behalf of his group, Bill Bowen (U Toronto) discussed his experiences with the Iter community, pointing out that 'build it and they will come' often doesn't work. Ellen Forsyth talked about the efforts of an international group of librarians to engage readers in online discussions on blog and Twitter. Ray Siemens (U Victoria; INKE) presented his team's work on setting up an environment for collaboration in consultation with scholars in the humanities. He pointed out a quiet, but fast shift towards collaborative digital tools and behaviours, and need for an inclusive environment for an academic and 'citizen scholar'. Daniel Powell (King's College London) and Lynne Siemens (U Victoria, INKE) discussed approaches to collaboration from a historical and organisational perspective. Powell argued that culture and knowledge production have always been collaborative while Siemens shared her experiences with establishing conditions for collaboration and emphasised the importance of establishing a common understanding among collaborators before the project commences.
Jennifer Roberts Smith (U Waterloo) opened Session 3: Analysis & Experimentation challenging the audience to think about power and 'book as the monument' as a context for experimentation. Stan Ruecker ((Illinois Institute of Technology, INKE) described his team's thinking about the development of several interfaces for the same programming background while Jon Saklofske (U Acadia, INKE) considered modularity and narrativity in the development of New Radial. Claire Timpany (U Waikaito) presented results of her doctoral research into users' perceptions of visual markers of headings online. Images of strong men and infatuated women illustrated Jack Elliott's (U Newcastle) talk about analysis of romance as a genre.
Session 4: Multimodal Knowledge Environments & Communities included a stimulating discussion about a range of topics. Jason Ensor (U Western Sydney) presented his and Belinda Barnet's (Swinburne U of Technology) paper on experiments with post-print, bi-directional linking based on Ted Nelson's Project Xanadu. They used Barnet's work to showcase Nelson's approach to establishing textual connections. The next two papers addressed issues of representing Indigenous Australian culture. Michael Walsh (Australian Institute of Aboriginal and Torres Strait Islander Studies) discussed challenges of cultural transfer when Aboriginal stories and songs are presented for a Western audience. It was interesting to hear that contemporary Indigenous musicians use Walsh's old tape recordings as a basis of composition on synthesisers. Hart Cohen and Rachel Morley (U Western Sydney) presented their work on linking archival records and media to relevant passages of Strehlow's book Journey to Horseshoe Bend. Finally, Brent Nelson (INKE) discussed museum as a knowledge environment and the implications for digital presentations.
The closing keynote address From Storythinking to Storymaking: Reimagining Narrative in the Academy by Sydney Shep (Victoria U of Wellington) invited the audience to consider the line between creative and analytical in the academy. Her reading of tweets from the #INKESydney14 was a masterful display of weaving analytical and performative in an academic discourse.
Conversations continued later in the evening over dinner with frequent references to analogue rain and a digital flow across the globe. Thanks, INKE, for freshly watered ideas.
See Twitter feed
https://storify.com/suzanasukovic/inkesydney14.html OR https://storify.com/suzanasukovic/inkesydney14.pdf
Saturday, 29 November 2014
By Michael Olsson
https://www.flickr.com/photos/askpang/3269557195/sizes/o/
It's fair to say that this is a question I've heard more than once in my career, sometimes from a student gazing in dismay at a reading list which includes Castells, Dervin and the occasional dead Frenchmen – but also on occasion, in from the occasional senior member of the profession disgruntled that my students don't spend their every waking hour learning the Dewey Decimal System. While those asking this question usually intend it to be rhetorical, I thought I'd spend this column answering it.
Let's start by clearing up one of the more common misconceptions: the world is not divided between airy fairy academic theorists and sensible people with common sense. Whether we're aware of it or not, the kind of information professional we are is a product of our conceptual framework. The way we view our job, the way we interact with our clients, the decisions we make are the product of our existing beliefs, understandings and preconceptions. This personal worldview for all of us is invariably limited and contradictory so by engaging with different theories we open up the possibility of looking at the world in different ways, we can gain insights that transcend our personal experience. Systems and services are also built on assumptions, many of them so long standing that we've stopped noticing them. Theory provides us with alternative lenses through which to evaluate their effectiveness.
Let's consider, for example, one of the most common assumptions in information practice. Whether we're looking at Dublin Core or Dewey, almost all classification schemes are still based on the 19th century documentalist idea that the role of the cataloguer is to 'capture' the intrinsic meaning in the text. Theory can gives the tools not only to see the flaws in this assumption but also the ways in which it can lead to systems that discriminate against, even actively exclude many information users.
The work of many theorists in the second half of the 20th century, from Roland Barthes to Brenda Dervin have pointed out that meaning isn't intrinsic to documents, nor is it determined by authors, rather it is constructed by readers. Nor, as Michel Foucault or Birger Hjorland, would point out, do we make sense of texts in a random or ad hoc way. We are each of us connected, via language, education and experience, to our own particular social context – which is how we all know without thinking about it that we should interpret Miss Moppet in a different way from On the Origin of Species or Goldfinger! Once we take these theories on-board, we can start to conceive of our professional practice in a different way: one focussed on an understanding of the conceptual framework of the individuals and communities we engage with.
So can I suggest that the next time you're considering a spot of professional development, that the most useful thing you could do, the one that might ultimately have the greatest influence on the kind of information professional you become, might just be to spend some time with the work of a dead Frenchman or two?
First published in Incite, October 2014
Dr Michael Olsson - Graduate Coordinator, Information & Knowledge Management,University of Technology, Sydney
Friday, 24 October 2014
By Suzana Sukovic
Findings of the digital storytelling project iTell have been recently reported in the Australian Academic and Research Libraries (ALIA) under the title 'iTell: transliteracy and digital storytelling'. Workshops have been offered for three years in a row, research findings have been reported and action research cycles have been closed for now. But, iTell data has been talking to me ever since. One of the ideas that make me wonder and speculate is a possible connection between transliteracy and student engagement, a possibility of transliterate learning.
Audience with the Cupcake Queen by Nyari Morales
But, firstly, a bit of a background. iTell was offered at St.Vincent's College, Potts Point, an independent high school for girls in Sydney, as a series of workshops in which students created digital stories based on stories they knew and liked. They looked into fiction of their choice from different perspectives, presented some oral stories for digital media or created their own digital stories. An important aspect of the project was the development of transliteracy skills through the process of creating digital stories. (Transliteracy relates to the ability to apply a range of skills in many different contexts while communicating and interacting with different media and technologies.) A research aspect of the project considered the development of transliteracy skills, student engagement with learning and any impact on learning after participation in the workshops.
At the time when I decided to include engagement as a research question, I thought I was, most likely, setting myself for a failure. Why would students engage with iTell differently than with any other learning at school? Is there anything new in observing more of the same behaviour? Curiosity almost killed the cat but, in the end, student engagement, turned to be a particularly successful part of iTell. Some of the students in iTell workshops were gifted high-achievers, others were self-selected because of their interest in creative work, but many others were encouraged or even required to attend. A number of iTell participants were notoriously disengaged learners for whom iTell was an opportunity to try a different approach to learning. Their literacy levels covered a broad spectrum from struggling to highly literate students. Regardless of all the differences in skill and motivation, they all found something in iTell that kept their attention. In interviews, students reflected on how iTell was different from their classroom experiences. The difference was to do with the length of half- or whole-day workshops, which created opportunities for engagement; relaxed rules around how they were sitting and using space; the playful nature of some activities and the way they were set up to create opportunities for individual work and peer-support. The lack of assessment and any formal requirements had potential to become an issue when student self-motivation didn't go far enough to sustain many hours of work. It may have been the case with few students but, for the majority, the absence of assessment created opportunities for a more organic integration of reflection and evaluation through the 'story circle', watching each other's stories, providing informal feedback, public screening and reflection in research interviews.
Student survey response (4 is maximum)
A context for transliteracy is an important aspect of student engagement, I suspect. 'Transliteracy is about fluidity of movement across the field -- between a range of contexts, modalities, technologies and genres' (Sukovic 2014). While mastering a range of specific skills is important, it seems that a transliterate way of working brings another quality. I speculate that a context for transliteracy encourages creativity and a sense of internal and external connections. Through these ongoing and evolving connections of skills and meanings, engagement is maintained and deepened. It seems that the fluidity of transliterate way of working supports 'staying in the flow' as defined by Csikszentmihalyi. Context for transliterate learning allows moving between a range of tasks, ideas and technologies providing mechanisms to maintain interest and the right level of challenge. Particularly important are different access points to learning. For example, writing a digital story can be approached as traditional story writing, visual story board, dramatic improvisation or developing a framework to work with technology, opening different approaches to the writing task.
The idea of transliteracy came from the field of media and communication studies, but it has captured the interest of library and information professionals who are well positioned to take the idea of transliteracy further and, hopefully, provide some evidence for inklings and speculations about the nature of transliteracy. Working 'across' disciplines, technologies and practices is modus operandi for most librarians. More focused on the information needs of the person or group at hand rather than on any external requirements, librarians are in a position to think of new ways of applying their tool set to individualised transliterate contexts.
Sukovic, Suzana. 2014. iTell: Transliteracy and Digital Storytelling. Australian Academic & Research Libraries 45 (3):205-229.
iTell stories are available here
Dr Suzana Sukovic is the Head of the Learning Resource Centre at St.Vincent's College, Potts Point and Co-Chair of the ALIA Research Advisory Committee
Wednesday, 8 October 2014
By Jennifer Berryman
This artice was first published in InCite (September 2014)
Writing is the theme of this LIS Investigations column – at first glance, not a natural partner with the issue theme of collaboration, as writing is seen by many as a solitary endeavour. But of course, writing and libraries are natural partners, as indeed are research and writing. This three-way relationship is the focus of Ferer's investigation into collaborations between academic libraries and writing centres

.
Ferer's research aim was to identify the range of activities embraced by libraries and writing centres when working together, to identify best practice. Both these academic services are established to support students and help them succeed in a scholarly environment, and not surprisingly have a history of collaboration. The methodological approach was a review of the research literature published in English between 1999 and 2012. Ferer cautions that the results are somewhat skewed, as much of the literature reviewed is published by librarians rather than writing centre staff; the literature is overwhelmingly American.

A summary of the results of the review is grouped around five themes: outreach and partnership; building relationships; sharing space; providing services in each other's space; jointly designing teaching modules and workshops. Interestingly, librarians providing services within the writing centre was one initiative for which results were mixed, although one library at least reported their services in the writing centre were well received as they were able to catch students seeking assistance at the very beginning of their research activity.

The brief discussion focuses on the most frequently embraced collaborative activities rather than identifying best practice. More popular collaborative activities included librarians providing writing centre tutors with training in library instructional services, for example, on how to manage citations, to enable them to assist students with their research. Other activities highlighted were co-teaching, cross-promotion of services and sharing spaces. Perhaps the most important finding discussed by Ferer is the importance of starting with small scale joint activities, and allowing the larger, more embracing activities such as combining services in a one-stop shop to emerge as the relationship develops. While many of these activities are already in place in Australian university libraries, Ferer's findings serve as a handy checklist when considering collaborative activity as a strategy to address the ongoing need to do more with less in delivering library services.

Writing collaborations are also the focus of the work by Campbell, et al. The stimulus for their interest in forming a collaborative writing group in an academic library was the difficulty encountered in carving out time from busy days to write up research for publication.

The authors analysed their own experiences against the published research of what is, they noted, an under-researched field. The result is a list of factors likely to foster successful collaborative writing activities such as selecting compatible colleagues with whom to collaborate, and practical tips to increase the chances of being accepted for conference presentation or publication. Also valuable is the brief consideration of the pitfalls that may be encountered.
So to all those practising librarians who are keen to share the knowledge they have gained from in-house research activities - have a look at this handy checklist , seek out writing partners with whom to collaborate and tell us about what you've found.
References

Ferer, E. (2012) Working together: library and writing centre collaboration. Reference Services Review, (40)4, 543-557
Campbell, K,. Ellis, M & Adebonojo, L.(2012) Developing a writing group for librarians: the benefits of successful collaboration. Library Management, (33)1/2, 14-21.
Image:
http://farm3.static.flickr.com/2535/3935972530_553dfe7349_m.jpg
Dr Jennifer M Berryman works at the State Library of New South Wales.
Thursday, 25 September 2014
By Clare Thorpe
The eighth International Evidence Based Library and Information Practice conference (EBLIP8) is returning to Australia in July 2015. Ten years after the third conference ventured to the southern hemisphere, Brisbane is again host city for EBLIP8 from July 6th to 8th 2015. This biennial event aims to promote the use of the best available evidence in practices and processes particular to the library and information profession. The conference provides an opportunity to bring together researchers and practitioners from all sectors to discuss and explore contemporary issues and topics of relevance to evidence based practice.
So what is the connection between research and evidence based practice? Is there a difference within professional practice?
Evidence based practice within the library and information professions emerged around the turn of the 21st century, promoting an approach that intricately linked research with professional practice. Evidence based practice was initially adopted and adapted by health librarians drawing on the models developed by the medical professions, growing and evolving to become important resource in the LIS professionals' toolkit across all sectors and roles. Early definitions from Booth (2002) and Eldredge (2002) emphasised the critical use of research to improve decision making. Crumley and Koufogiannakis (2002) extended these definitions, focussing not only on the use of research but also encouraging librarians to become researchers and to "conduct high quality qualitative and quantitative research". (p.62)
In its short history, the literature and discussion around EBLIP has primarily focussed on the analysis, validation and application of research literature to a specific problem to inform decision making. But it is fair to argue that evidence based practice as imported from the medical profession has never been a perfect match for library and information sciences. Although synonymous with information sciences, librarianship at its best is a combination of both "science" and "art". Koufogiannakis (2013) describes this as the application of both "hard" and "soft" evidence within professional practice. Hard evidence sources are those more scientific in nature, including traditional published research sources. Soft evidence includes "non-scientific" sources such as accumulated knowledge, opinion, instinct and relationships. Speaking at the opening of the EBLIP7 conference, Koufogiannakis argued that research may not always be the best form of evidence given the collaborative (or committee) approach to decision making often applied to specific problems within individual libraries. EBLIP discussions may need to recognise the diverse range of legitimate sources of evidence that librarians use in their decision making processes, including research publications. This is not to discredit the importance of research but rather to highlight it as one key element which evidence based library and information practitioners use, combined with other aspects of evidence, to make informed decisions. Research, evidence and professional experience together combine to create the evidence based library and information practice picture.
The theme of the EBLIP8 conference is "evidence and practice: working together" and reflects our focus on narrowing the gap between practice and evidence and in promoting evidence based practice in all parts of the library and information professions. For the Australian LIS community, this is an opportunity to showcase the way in which we are developing practices and processes particular to the library and information profession and reconfiguring the traditional evidence based philosophy to suit individual circumstances and locations. Australian researchers and practitioners are among notable contributors to the contemporary EBLIP dialogue, with Lewis (2011), Gillespie (2010), Partridge (2010) and others leading the way in Australia and internationally. Initiatives such as the Australian Evidence Based Practice Librarians' Institute are fostering strong engagement and mentoring a new generation of evidence based practitioners in the health sector. Collaboration across institutions and sectors is fundamental to foster learning through the sharing of experiences, publication of quality research results, and a sustainable and connected EBLIP community.
The organising and program committee of EBLIP8 welcome submissions from practitioners and the research community to explore these ideas in Brisbane next July. Submissions close October 13, 2014. Find out more at http://eblip8.info/callforcontributions/
References
Booth, A. (2002). From EBM to EBL: two steps forward or one step back? Medical Reference Services Quarterly, 21(3), pp. 51-64.
Crumley, E. and Koufogiannakis, D. (2002). Developing evidence based librarianship: practical steps for implementation. Health Information and Libraries Journal, 19, pp. 61-70.
Eldredge, J. D. (2002). Evidence based librarianship: an overview. Bulletin of the Medical Library Association, 88(4): 289-302.
Gillespie, A.M. (2010) Valuing the impact of the teacher librarian from an evidence base. In Proceedings of SLAQ / IASL 2010 Conference, School Library Associations of Queensland and International Association of School Librarianship, Brisbane Convention & Exhibition Centre, Brisbane, Queensland.
Koufogianniakis, D. (2013) EBLIP7 Keynote: What we talk about when we talk about evidence. Evidence Based Library and Information Practice 8(4). Retrieved 23 September 2014 from: http://ejournals.library.ualberta.ca/index.php/EBLIP/article/view/20486/15965.
Lewis, S. (2011), Evidence based library and information practice in Australia: defining skills and knowledge. Health Information & Libraries Journal, 28, pp. 152–155.
Partridge, H., Edwards, S. & Thorpe, C. (2010) Evidence-based practice: Information professionals' experience of information literacy in the workplace. In A. Lloyd & S. Talja (eds.) Practising information literacy: Bringing theories of learning, practice and information literacy together. Wagga, NSW: Charles Sturt University.
Clare Thorpe is Project Officer at the State Library of Queensland
Tuesday, 2 September 2014